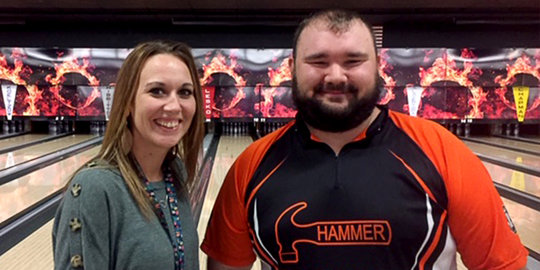 Kris Koeltzow Wins PBA Grand Casino Resort & Hotel Southwest Invitational
December 8, 2020
ddziomba
Shawnee, Okla. – Kris Koeltzow from Wheat Ridge, Colo. defeated Wesley Low, of Palmdale, Calif., to win the seventh annual PBA Grand Casino Resort & Hotel Southwest Invitational at FireLake Bowling Center on Sunday.
Koeltzow's $4,000 winner's check was an early birthday present as he celebrated his 29th birthday the day after the victory.
In the title match, Koeltzow grabbed an early lead with three strikes as Low was unable to get his string of strikes going until the middle of the game. Low was closing in on Koeltzow late in the game, but left a 7-pin tap in the ninth frame which allowed Koeltzow to double in the tenth and secure the win, 247-225.
After 12 games of qualifying, Koeltzow was the 12th seed, and started his road to victory with a 3-0 win in a best of five game match series against Sean Lavery-Spahr, from Pasadena, Texas. Mike Bailey of Carrollton, Texas fell to Koeltzow in games of 2-1 prior to Koeltzow defeating Canada's Francois Lavoie, 257-234, in the one game semi-final match.
Low advanced to the finals with victories over Anthony Lavery-Sphar, from Pasadena, Texas, A.J. Chapman, now living in Lewisville, Texas, and DeeRonn Booker, of Albuquerque, N. Mex.
Low earned $2,400 for second place. Lavoie and Booker each received $1,500.
The Southwest Region's next events will be the PBA Laredo Sports Southwest Super Regional at South Plains Lanes, Dec. 11-18. That event will offer a $5,000 first prize. The PBA Houston Emerald Bowl Southwest Doubles Open, with a projected $7,000 winner's check, follows at Emearld Bowl in Houston, Texas, Dec. 18-20.
PBA GRAND CASINO HOTEL & RESORT SOUTHWEST INVITATIONAL
FireLake Bowling Center, Shawnee, Oklahoma, Sunday
Championship:
Kris Koeltzow, Wheat Ridge, Col. ($4,000) def. Wesley Palmdale, Calif. ($2,400), 247-225.
Semifinal Round (losers earned $1,500):
Koeltzow def. Francois Lavoie, Canada, 257-234.
Low def. DeeRonn Booker, Albuquerque, N.M. 242-186.
Round of 8 (best of three games, losers earned $1,000 each):
Low def. A.J. Chapman, Lewisville, Texas, 2-1.
Koeltzow def. Mike Bailey,Carrollton, Texas, 2-0.
Booker def. Nathan Bohr, Austin, Pasadena, Texas, 2-1.
Lavoie def. Chris Barnes, Double Oak, Texas, 2-0.
Round of 16 (best of three games, losers earned $650):
Barnes def. Stuart Williams, Pflugerville, Texas, 3-0.
Koeltzow def. Sean Lavery-Spahr, Pasadena, Texas, 3-0.
Lavoie def. Kyle Duster, Scottsdale, AZ, 3-1.
Bailey def. Shawn Maldonado, Houston, Texas, 3-1.
Booker def. Cody Meiers, Lubbock, Texas, 3-2.
Bohr def. Dimitri Cruz, Denton, Texas, 3-1.
Chapman def. Austin Boulds, Wichita, Kan., 3-1.
Low def. Anthony Lavery-Spahr, Pasadena, Texas, 3-1.
300 Games: Kris Koeltzow, Cody Meiers, Kyle Duster, Stu Williams, AJ Chapman
There are No Events to Show at this time. Stay tuned for more events coming soon.