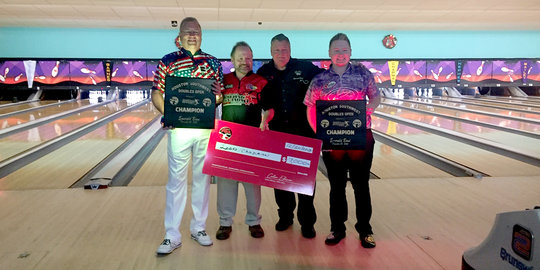 Keith Lesko, A.J. Chapman Win PBA50/PBA Houston Southwest Doubles Title
December 22, 2020
ddziomba
Houston, Texas – A.J. Chapman, who now lives in Lewisville, Texas, teamed up with Keith Lesko, of Prosper, Texas, to win the eighth annual PBA50/PBA Houston Emerald Bowl Southwest Doubles, presented by Bowling Dynamix on Sunday.
The winning duo led the eight-game qualifying portion of the event by 45 pins over the duo of PBA Hall of Famer Chris Barnes and PBA rookie Dimitri Cruz, both now living in Denton, Texas. Close behind them was the team of Thomas Hess, from Granger, Iowa, and Sean Lavery-Spahr, from Pasadena, Texas. The three teams battled throughout the ten-game round robin match play finals, with numerous lead changes.
With only 24 pins separating the top three going into the final game position round, any of the three teams could come out on top. Top-seeded Barnes/Cruz fell to second place Hess/S. Lavery 450-436, with Hess and Lavery-Spahr winning all 50 of the games bonus pins. However, Chapman's final game 267 paired with Lesko's 214, giving them enough pinfall to claim the lead and victory. The winning team was awarded $7,000. Hess and Lavery-Spahr collected $3,600 for second and Barnes and Cruz received $2,400 for third place.
PBA50/PBA HOUSTON EMERALD BOWL SOUTHWEST DOUBLES, presented by Bowling Dynamix Emerald Bowl, Houston, Texas, Sunday Final Match Play Standings (after 18 games, including match play bonus pins):
Keith Lesko/AJ Chapman +1693 $7,000
Thomas Hess/Sean Lavery-Spahr +1651 $3,600
Chris Barnes/Dimitri Cruz +1615 $2,400
Ron Mohr/Nate Garcia +1395 $1,900
Jay Nephew/Anthony Simonsen +1353 $1,600
Paul Fleming/Anthony Lavery-Spahr +1318 $1,400
Chris Warren/a-Justin Bui +1272 $1,300
Walter Ray Williams Jr/Ildemaro Ruiz +1124 $1,200
Paul McCordic/a-Billy Rogers +1096 $1,100
Rick Minier/Shawn Maldonado +1033 $1,050
n-Denotes non-PBA member
300 Games: Chris Barnes, Wesley Low, Anthony Lavery-Spahr, Shawn Maldonado
There are No Events to Show at this time. Stay tuned for more events coming soon.