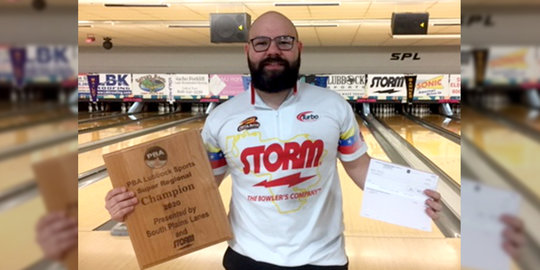 Ildemaro Ruiz, Jr. Wins First PBA Regional Title in Lubbock Southwest Open
December 16, 2020
ddziomba
Lubbock, Texas, (December 14, 2020) – Venezuela's Ildemaro Ruiz, Jr. won his first PBA Regional Title at the tenth annual PBA Lubbock Southwest Super Open at South Plains Lanes on Sunday.
Ruiz and A.J. Chapman, now living in Lewisville, Texas, battled for the top position throughout the eight-game modified round robin finals that went down to the final game and 30 bonus pins.
Heading into the final game position round, Chapman held a 13-pin lead. He extended his total pinfall early in the game when Ruiz could only manage one double through the first five frames. Ruiz then catapulted back finishing with seven consecutive strikes for a 257.
Chapman who needed a strike and nine spare to overtake Ruiz, failed to get the strike on the first frame leaving a stubborn seven pin with a 248 finish. Ruiz claimed his first PBA win and $5,000 first place prize.
As runner-up, Chapman settled for $2,700. Third place went to Jacob Butturff, of Tempe, Ariz., as Sean Lavery-Spahr finished fourth, Chris Barnes, from Double Oak, Texas, in fifth.
The PBA Southwest Region's 2020 schedule will conclude with the PBA50/PBA Houston Southwest Doubles Open, presented by Bowling Dynamix, Dec. 18-20.
PBA LUBBOCK SOUTHWEST SUPER OPEN
South Plains Lanes, Lubbock, Texas, Sunday
Final Standings (22 games)
Ildemaro Ruiz Jr., Venezuela, $5,000.00, 5-3, 5715 total pinfall
AJ Chapman, Manchester, Iowa, $2,700.00, 6-2, 5689 total pinfall
Jakob Butturff, Tempe, Ariz., $2,000.00, 3-4-1, 5489 total pinfall
Sean Lavery-Spahr, Pasadena, Texas, $1,500.00, 6-2, 5479 total pinfall
(S) Chris Barnes, Double Oak, Texas, $1,200.00, 6-2, 5435 total pinfall
Shawn Maldonado, Houston, $1,000.00, 3-4-1, 5345 total pinfall
Dylan Macon, Lubbock, Texas, $900.00, 5-3, 5317 total pinfall
Kris Koeltzow, Wheat Ridge, Colo., $800.00, 3-5, 5213 total pinfall
(N-Y) Garrett Andrus, Austin, Texas, $750.00, 2-6, 5153 total pinfall
Dimitri Cruz, Denton, Texas, $700.00, 2-6, 5151 total pinfall
Mason Edmondson, Amarillo, Texas, $625.00, 3-5, 5136 total pinfall
Travis Tribolet, San Angelo, Texas, $625.00, 3-5, 5136 total pinfall
There are No Events to Show at this time. Stay tuned for more events coming soon.