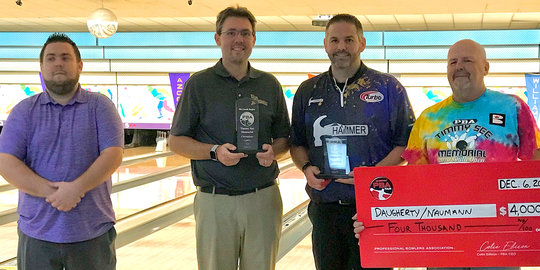 Daugherty, Naumann Victorious in Yulee Member/Non-Member Doubles
December 7, 2020
ddziomba
Yulee, Fla. – The team of Tom Daugherty and amateur Shawn Naumann of Riverview, Fla., defeated Kenneth Ryan and amateur Chase Benites of Morganville, N.J., 226-190, to win the $4,000 first prize in the PBA South Region Timmy See Memorial Member/Non-Member Doubles at Nassau Bowling Center on Sunday.
The win was Daugherty's 18th PBA South Regional title, while his partner Naumann won the event in 2018 with member Mike Moore, and finished in second place last year.
Defending champion team PBA Hall of Famer Walter Ray Williams Jr. and Josh Johnson, won their first match against the team of Kristijonas Sergejevas and amateur Verity Crawley 193-188, but lost their second match to Kenneth Ryan of Morganville, N.J. and Chase Benites of Wyoming, Mich., which set up the title match.
Ryan and Benites earned $2,200 for their second-place finish, Williams Jr. and Johnson took home $2,000 for third, and Sergejevas and Crawley collected $1,800 for their fourth-place effort.
PBA TIMMY SEE MEMORIAL MEMBER/NON-MEMBER DOUBLES
Nassau Bowling Center, Yulee, Fla., Sunday
Final Standings:
1. Tom Daugherty, Riverview, Fla./n-Shawn Naumann, Orlando, Fla., $4,000.
2. Kenneth Ryan, Morganville, N.J./n-Chase Benites, Wyoming, Mich., $2,200.
3. Walter Ray Williams Jr., Oxford, Fla./n-Josh Johnson, Callahan, Fla., $2,000.
4. Kristijonas Sergejevas, Lithuania/n-Verity Crawley, England, $1,800.
Stepladder Results:
Match One – Williams Jr./Johnson def. Sergejevas/Crawley, 193-188.
Semi-final Match – Ryan/Benites def. Williams Jr./Johnson, 257-205.
Championship Match – Daugherty/Naumann def. Ryan/Benites, 226-190.
Final Match Play Standings (after 8 regular team games, and 8 baker match play games, including match play bonus pins)
1. Daugherty/Naumann, 5-2-1, 5,685.
2. Ryan/Benites, 5-3, 5,567.
3. Sergejevas/Crawley, 5-3, 5,563.
4. Williams Jr./Johnson, 6-2, 5,548.
5. Rory Peterson, Jacksonville, Fla./n-Daniel Mayo, Jacksonville, Fla., 3-4-1, 5,513, $1,500.
6. Anthony Caso, Merritt Island, Fla./n-Don Yoshihara, Tampa, Fla., 2-6, 5,442, $1,300.
7. Dave Han, Alabaster, Ala./n-John Donovan, Melbourne, Fla., 3-5, 5,262, $1,250.
8. Matt Taylor, Zebulaon, N.C./n-Brian Locke, Raleigh, N.C., 2-6, 5,201, $1,200.
300 Game : n-Dan Blakeslee (Qualifying) Daugherty/n-Naumann (Baker)
n-designates non-PBA member
There are No Events to Show at this time. Stay tuned for more events coming soon.